Great interview with the Chief Commerical Officer of the British Olympic Association here.  In it he describes how the under-funded organization he was leading had to create a unifying marketing campaign to support the British Team at the 2012 Olympics.
It makes interesting reading because
The three-pronged support for the British Team was neatly encompassed in 3 phrases: Inform, Engage, Inspire – and these gave them a yardstick against which to measure any other activity proposed.  If it didn't match up to these, they didn't do it.
They encouraged broad participation in the idea generation for the campaign.  "including internal brainstorms and sessions with various creative contacts who added to the general debate – out of which emerged eight candidate positionings."  I guess this was pro bono work offered by the creative teams of their major sponsors.  Much like British Rowing who got a new logo from Siemens' inhouse team, these guys would be keen to support the Olympics and their inherent marketing skill probably gave the 8 positionings quickly and at low cost.
Market research was tagged onto another programme already paid for  "We were fortunate to be offered the opportunity to test these routes by engaging with a series of qualitative groups that Lloyds TSB were running".  So that was cheap and effectively gave the leading answer a justification.
Back to the experts for some last minute refinement "from this emerged a favourite which was phrased "The Ultimate Team". More debate and navel gazing led to the adoption of "our" and the less ambiguous "greatest" instead of "ultimate".  The resulting over-arching idea was 'Our Greatest Team'.  So there you go – a ready made strap line for the whole campaign.
And a final extension into a subsidiary strap line to broaden the appeal and diffuse any criticism from minorities and funding bodies.  "with the strap-line of 'Our Greatest Team: 900 athletes 60 million strong'. Why 900? In a ground breaking move – that seems obvious now – we invited the British Paralympic Association to join us in the campaign with one team under a combined proposition."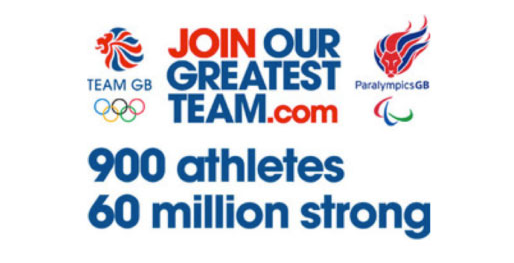 There you go – the anatomy of a low cost marketing campaign with huge reach because all the sponsors endorsed it, buying in because they'd been consulted from the beginning.
Sitting on the backs of large brand advertising budgets who took on the logostyle and used it in their own work, gave huge prominence to the message and started to create resonance with the audience – the Great British Public.
2 Marketing Communications
,
4 Profile Raising
,
7 Making New Business Happen
,
Advertising
,
B2C
,
Branding
,
Digital media
,
Marketing ideas
,
Social Media
,
Sports
,
Web 2.0 for business
.