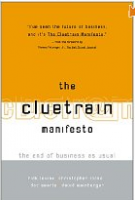 The Clutrain Manifesto was a significant moment in future-gazing for a world that is now very clearly with us.
The authors have re-published the book with some additional chapters by themselves and another luminary, JP . Which will be great and some added thought-provoking chapters to digest.
What was so great about Cluetrain? It first foresaw and articulated the concept of the market as a conversation. That is thesis number one.
A powerful global conversation has begun. Through the Internet, people are discovering and inventing new ways to share relevant knowledge with blinding speed. As a direct result, markets are getting smarter—and getting smarter faster than most companies.
That corporations are made up of people who (shock horror) may disagree.
How do you speak in a human voice? First, you get a life. And corporations just can't do that. Corporations are like Pinocchio. Or Frankenstein. Their noses grow longer at the oddest moments, or they start breaking things for no good reason. They want to be human, but gosh, they're not. Christopher Locke
and thesis 15 stands out for me today – have we arrived at the point of 'a few more years'?
In just a few more years, the current homogenized "voice" of business—the sound of mission statements and brochures—will seem as contrived and artificial as the language of the 18th century French court.
For me what happens next is the really interesting part. Here's what I think….
the rise of the power of the consumer to inform, bargain, leverage and enthuse
corporate honesty is tested and changes many organisations
Reversal of the advertising-led world of marketing and sales to networked conversations
The end of corporate databases and centralised record-keeping. Only record-verification needs to be centralised
B2B engagement and prospect research is easier and cheaper and the opportunities to find good new business partners and clients quickly and cheaply grow massively
Shifting budgets from OTL to direct and social media
The up-skilling of call centres from help-desks to teams of helpful folk who can get things done, sell more product and work withing the network to facilitate the coompany goals
thanks to David Cushman for the link.

http://creativeagencysecrets.com/wp-content/uploads/2014/04/CAS_Logo_1line_RGB.jpg
0
0
Rebecca Caroe
http://creativeagencysecrets.com/wp-content/uploads/2014/04/CAS_Logo_1line_RGB.jpg
Rebecca Caroe
2009-06-18 22:53:42
2009-06-18 22:53:42
Cluetrain celebrates 10 years - so what next?