Although this feature has been around for a while – it's amazing that not everyone knows about it. If you're a page admin then it's time to rejoice – Scheduled Facebook posts are here!
This wouldn't be the first time Facebook's updates have gone largely unnoticed and with hugely important updates like this being missed you can bet it won't be the last. The real benefits aside from the obvious increases in engagement (due to posting at all hours) and ease, it removes our dependence on 3rd party applications and plugins (it also removes any trace of scheduling unlike Buffer and HootSuite – 'via HootSuite' anyone?)
To business then – how to schedule your posts.


Click where you usually would to create a post (it's important to note that this only works when creating a post from your business' profile page). At the bottom, you should notice a little clock. Clicking this clock will bring up a menu. From here you can select a date (whether it be in the past or future) to publish your post.
Posting in the past will slot your post as if it were published then, this means it will not be at the top of your timeline – it will instead slot itself in chronological order based on "published" date.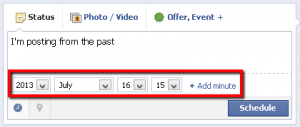 The screenshot above shows an example of a future posting. Facebook lets you schedule posts up to 6 months in advance (at 10 minute  intervals).
After you have successfully chosen a date to schedule your post you will be greeted with the screen below. Congratulations – Scheduling Complete! Clicking "View Activity Log" will take you to a screen where you will see all of your posts (published at the bottom, scheduled at the top).


A couple of warnings…
Not everything can be scheduled. It's easy enough to see what can and can't though – if there's no clock, you're outta luck. If there is a clock but you can't seem to post at a future date then you also can't schedule a post.

Examples of what can't be scheduled are photo albums, posting of events, questions, offers and milestones.

Not available for personal profiles.
Happy Scheduling!
http://creativeagencysecrets.com/wp-content/uploads/2014/04/CAS_Logo_1line_RGB.jpg
0
0
Jonathan Malcolm Lewis
http://creativeagencysecrets.com/wp-content/uploads/2014/04/CAS_Logo_1line_RGB.jpg
Jonathan Malcolm Lewis
2013-07-11 16:59:08
2013-08-23 15:05:27
Facebook Scheduled Posts