Your brand needs content that's more than sharable, is embedded and yet still credits back to you as the author and originator.  B2B and B2C businesses now use ebooks, white papers and other sharable assets like infographics in new business development and marketing.
Three new tools will help you take advantage and encourage your prospects, customers and their social media contacts to gain audience.
WordPress enables automatic URL embedding
Pinterest enables embeds from shared images
Hubspot releases easy "create your own" infographic template in Powerpoint
WordPress 3.4.1
The latest version of WordPress has this handy new feature – saves time and delivers perfect embedded content.


It's all driven by oEmbed, scroll down for the full list of sites including YouTube, Vimeo, Flickr, Scribd and Twitter.
Pinterest embeds
I first noticed these when Copyblogger enabled sharing on its self-authored infographics.  At the bottom of each post, they included the embed code and so you could just grab it and enable a launch from your own blog or website.  But the Pinterest ones are more accessible and work in a similar manner.
Go to Pinterest and select the image you want, click once on it to expand the image – on the right side is a button labelled "embed" click that to display the HTML code.  Note this embed is not the same as on the Copyblogger example above, which is sourced direct from their hosted site.  The Pinterest one will link back to Pinterest first and only if the viewer clicks a second time on the image will it go to the originators' website.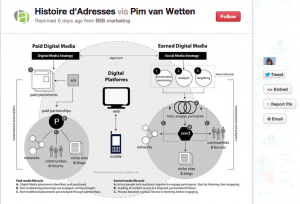 This matters if you want your site to be very obviously the creator of the content.  That's why so many infographics have corporate logos on the bottom or credits in the title text. See our Pinterest board, Creative Agency Infographics.
Hubspot's DIY infographic tool
A white paper with a difference is a downloadable powerpoint deck that explains how to create infographics using a series of powerpoint slides and then how to use Pixlr Editor to paste them together into a long, single image.
This works so well for Hubspot because it both demonstrates the power of white papers, forces you to register your interest with them and gives you three template infographic layouts to customise for your needs.
The designs are simple and you'll need a bit of Powerpoint skill to use them.
Let Creative Agency Secrets create infographics for you
If you prefer, we can introduce you to our expert sub-contractors who design all the eBooks for our client Rowperfect and our own slides.  Once you've done the thinking about your infographic content, if you can afford $250 we think you'll end up with a more professional, an unique design. Or the third option is to take up the SPECIAL OFFER we got for readers with Nick Grant of Killer Infographics.
Related articles

http://creativeagencysecrets.com/wp-content/uploads/2014/04/CAS_Logo_1line_RGB.jpg
0
0
Rebecca Caroe
http://creativeagencysecrets.com/wp-content/uploads/2014/04/CAS_Logo_1line_RGB.jpg
Rebecca Caroe
2012-08-28 00:41:49
2012-08-28 00:43:54
Leverage biz dev profit from images & infographics