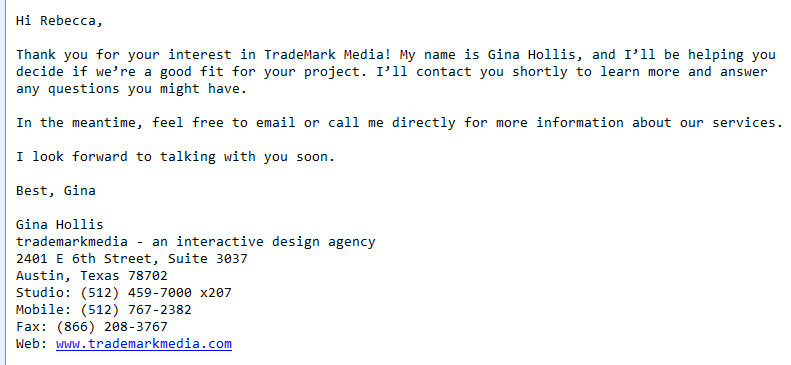 Estimated reading time:

4

min
I am a fan of email auto responders that send a pre-determined email reply out from your address.  They can be very helpful for new business development as an information tool for prospective customers.
As ever, there are good and bad examples of automatic emails.  Here are four examples we have received recently that can show you the best and worst examples.  Most are from marketing and sales agencies / organisations and so the bad examples make me cry with shame….. there's so much to improve.
Let's get to work.
Example 1 – Failure Message
We got this after trying to email J Walter Thompson in Houston, TX.  Their website didn't list the office contacts so we used a directory called MacRae's Blue Book.   This is what came back from our email:
A request for contact that failed.
Check and update all the free listings services that have your company and office.
Create a unique email address so you can track effectiveness e.g. macraes@jwt.com would have worked here.
Contact yourself through them as a mystery shopping exercise at least once a year, preferably 6 monthly
Where do email enquiries go?  Which phone number do they list and who answers it?
Email effectiveness 4/10
Example 2 -Zero Information
Membership organisation NYAMA (New York American Marketing Association) whose membership-based services are surely the profit engine for the organisation.  But hey, send them a membership enquiry on their auto form and one week later [hardly an automatic response] this comes in:
"Thank you for submitting this form."  Great – send me what I already know I sent you
What happens next?  No mention of next steps towards becoming a member
Timeliness – this reply came back 5 days after we completed the online form
Nothing happened
Email effectiveness 2/10
Example 3 – Inbound Emails
When you send an enquiry in to a company's 'general' email whether by form on the website or direct, what happens to that email?
Everyone knows that spammers and malcontents will be using it too – so what reassurance can you give people that their message has got through?
This one came from a retail marketing agency fronted by a TV celebrity.
They have good information about what to expect from the agency, the celebrity and where to get more information free / cheap and also training
But the email came from one general email address – they need to split the contact so people interested in the celebrity and people interested in the agency are directed to different places.
We wrote back to confirm our interest in the agency and received the same auto-response again.  Irritating.
Example 4 – the perfect first reply
And finally, a look at a nice, short friendly reponse from a media agency.
The message gives a real person's name as a point of contact
Sets clear expectations about what the agency will do next
Sounds genuinely friendly
Copy this one.
Autoresponders are a good tool to kick off your online marketing.
 
Simple. How many emails do you write daily? How many blog posts? You only have to write an autoresponder once. It will then go to as many new recipients as activate the trigger. Forever. It will always go out in the same time format that you set up at the start. It's easy. You don't have to think about it. And all the while it keeps up a relationship with your readers. Voilà.
And if you need help, let us know! Hire a Creative Agency Secrets team of copywriters to set up your auto responder – we know what we're doing and can give you the shortcuts to great outcomes and customer engagement.
More With The Creative Agency Secrets GUIDE TO AUTORESPONDERS
The Top 6 most popular articles of all time
https://creativeagencysecrets.com/wp-content/uploads/2010/10/autoresponse1.png
365
791
Rebecca Caroe
https://creativeagencysecrets.com/wp-content/uploads/2014/04/CAS_Logo_1line_RGB.jpg
Rebecca Caroe
2018-08-09 10:00:52
2020-01-24 01:45:11
Email Auto Responders - A Quick Tutorial